Flooring Ferndown
You deserve nothing less than the highest quality flooring Ferndown can provide for you and we, at Peter Newman Flooring, are here to make sure you get the best flooring for any kind of property that you have. From hardwood, vinyl's and carpets to laminates and LVT's, we have the largest range of flooring available in Ferndown that are supplied from world-leading brands. Visit our Poole showroom or call us on 01202 672222 today for more information!
Finest Flooring Ferndown has Available
Flooring is an important feature of any domestic, commercial or industrial building and is one of the first features that people notice when entering your property. How it looks can make all the difference in providing a cosy and lavish looking environment. Additionally, it's important that the flooring you have is suitable for your needs and provides an adequate level of safety that's required.
Here at Peter Newman Flooring, we are experts in all kinds of flooring options which makes us leaders within the flooring industry. Within our Ferndown showroom, we only have a selection of the finest flooring Ferndown can showcase from world leading flooring manufacturers.
You can trust Peter Newman Flooring to provide you with flooring that is great value for money and is made to stand the test of time.
Flooring Available at Peter Newman Flooring
Within our Poole showroom, you can find a large variety of flooring such as: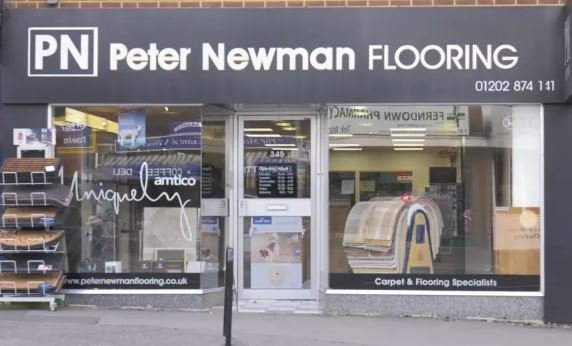 All our flooring products are carefully selected and supplied from the best brands in the world within the flooring industry. Within each flooring category, you can find an abundance of styles, materials, textures, colours and more to ensure that you get the perfect flooring for your needs.
Choosing your Flooring in Ferndown
Whether it's for a domestic or a commercial property, choosing which flooring to have installed is an important decision that will affect you for many years to come.
Firstly, you need to decide what floor you'd like based on the functionality that you require which will be affected by many different factors. If you have a commercial premise, there are likely to be certain safety requirements that need to be met such as non-slip flooring, anti-bacterial flooring and easy to clean flooring. In these instances, flooring such as carpets and vinyl's may not be the best options whereas, safety vinyl would be better.
When deciding on flooring Ferndown has to offer for your domestic property, there are many more factors that you need to consider for your flooring. If you have pets or children, you want flooring that is easy to clean and maintain such as laminates or vinyl. Whereas, if you want flooring for your bedroom to offer superior comfort, then a thick carpet is a good option.
Once you've shortlisted a range of flooring types that will be suitable for your purposes, you now need to decide on the aesthetics of the flooring. This can be an even harder decision as there are more varieties of styles then there are flooring types. Here at Peter Newman Flooring, we take pride in offering the largest selection of flooring Ferndown has available. This can be in the form of dark or light-coloured flooring that cleverly contrasts with your furniture and décor to help your furniture to stand out. We've also got plenty of patterns that you can choose from to create many different illusions such as striped carpet on stairs and vinyls with a tiled pattern to get that tiled look but at a fraction of the price.
There is almost no limit on what you can achieve with our flooring Ferndown services. Our expert craftsmen can help you choose the perfect flooring based on your needs and wants; if you can't get to us, we're happy to come to you with a selection of flooring options for you to choose from.
Getting your Flooring in Ferndown
If you want the best selection of flooring Ferndown has available, then you're in the right place. Not only can you find a great range of high-quality flooring options with us at Peter Newman Flooring, but we are also expert installers and will support you through the entire process of getting your new floor. Call us on 01202 672222 to book a private appointment with one of our flooring specialists in Poole.